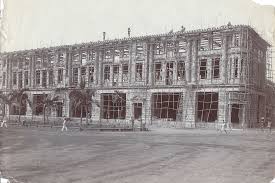 Tourist Myanmar Building was built in 1905 by Indian merchant. Although it was initially named as the Fytche Square Building, U Ba Nyunt, a wealthy Burmese operator, changed it to the Burmese Favorite Company which was known as Myanmar Aswe in 1918. In 1920, Tin Nwe, son of Ba Nyunt, changed it again as the Dagon Magazine Company that promoted the role of local writers more than before and provided many advantages for Burmese literature. In 1947, Myanmar government used this building as a place of sharing rations for civilians.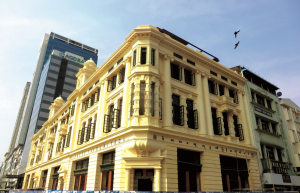 After getting independence, it had been as Ministry of Hotels and Tourism. This building was used by Tourist Burma travel agency which was the first and only one travel agency of Myanmar in the age of Socialist Government, U Nay Win. Being under the Ministry of Commerce as a Department, this Department managed foreigners to visit and travel in the whole Myanmar. Now, the building is mainly known as Tourist Burma Building.
A1 Film Company, Burmese film studios had used the building and their functions was ended in 1983. By 2005 and later it was seemed to be empty because Naypyidaw was recognized as Myanmar capital city instead of Yangon. During World War II, bombing caused much damage to the building. In 2008, it was also attacked by considerable storm Nargis Turquoise.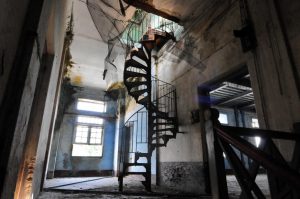 Now, non-governmental organization in Scotland undertaking the restoration of historical buildings is repairing the old Tourist Burma Building with the request of Myanmar government. And it will be opened to the public in July 2019. The revitalization of the old Tourist Burma Building was first discussed in 2016 and construction has begun in 2017. The key plans of the 114-year-old building reconstruction is to be useable for the public.
Turquoise Mountain purposes the ground floor will be developed into an exhibition space, while the rest of building will be home to a food hall, office spaces on the middle two floors as well as roof space, including a public roof garden. As well as developing the accessibility of the building, the Turquoise Mountain team also want to develop the surrounding outside space to make it more comfortable for people.